The new Lara Skatepark is one of Victoria's best designed and constructed skateparks. The skatepark was opened in 2017 featuring an epic snake run concrete bowl along with a decent sized street section. The concrete bowl varies from 6 ft down to 4 ft in the shallow section. The bowl also has a role in, stairs and a weird little extension, which is sick to skate on the street side of the park.
Lara Skatepark has a great space for the street skaters to stretch their legs next to the bowl. The street section comprises of several boxes, banks, quarters and rails. There is also a heap of smooth concrete for you to do whatever you'd like. At one end of the skatepark, there is a mellow 3 ft quarter with seamless transitions and a bank at the other end that makes it easy to maintain speed through the park.
Lara skatepark is located just off the freeway, 15 minutes north of Geelong in the centre of Lara. Being just a 2 minute detour from the highway, there is no excuse not to visit Lara Skatepark on your next trip to Geelong or the Surf Coast.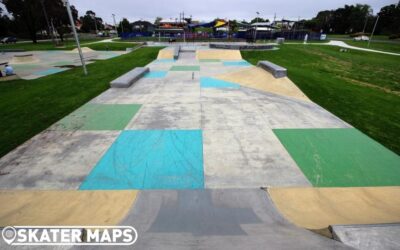 The fresh concrete that makes Bairnsdale skatepark is rad, to say the least. The plaza-style park consists of a large street section with all the street obstacles any kid could dream of. There is a rad mini ramp along with a number of other transitions around the...