Ballarat City Skatepark is one of Victoria's best skateparks. It's a concrete skatepark that features two decent sized bowls surrounded by quarters, blocks, rails and ramps so you can keep rolling all day long…
One of the bowls is open at one end, the other has a roll in the knuckle, and there is a spine between all the hellcats who want to transition between the two. There's also a fun box, flat bars, a euro gap and a vert extension on one of the quarters, just in case you want to knock some of your teeth out.
This skatepark also has a unique street section that has been combined with a basketball court so all the ballers out there can play a game of H.O.R.S.E while practising their grinds. There's also a 5 stair with handrail connecting the raised park with the lower street/b-ball section (so even your 85-year-old Grandfather can make his way easily between the two)
This skatepark has everything you can think of and more, including some shade sails so that your pasty mum doesn't get burnt while you shred. The only problem is that as it's the biggest and best skatepark in the area, it can get jam-packed, especially with Groms in school holiday periods. The park, built by Convic, is reasonably new and very, very smooth.
Check out the park's Facebook page for details about upcoming events and vids of local shredders.
The park is located off Ballarat Main Road (C294) within the L.T.Fraser Reserve, so you can walk your dog, cook a snag (or veggie burger) on the BBQs provided and even took a dump in the public dunnies.
Apparently, vandalism at the park is a problem from "time to time", so if you need to report broken glass on the ramps, burning rubbish bins or fresh graffiti, give the City of Ballarat hotline bling a ring 1800 668 625.
Check out our five-star rating and make sure you pay Ballarat skatepark a visit next time you're in the area.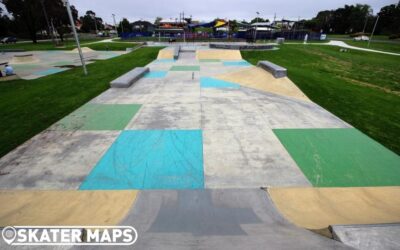 The fresh concrete that makes Bairnsdale skatepark is rad, to say the least. The plaza-style park consists of a large street section with all the street obstacles any kid could dream of. There is a rad mini ramp along with a number of other transitions around the...